...and is guaranteed not to crack, peel or fade for 10 years.
It's a little known fact that uPVC deteriorates with the ultraviolet light from the sun, with a shelf life of approximately 20 years. After this, it starts to go brittle and discolour, traditionally this would mean having the expensive job of replacing with new, but not anymore!
Our technicians can completely transform the look and feel of your home by spray painting your existing uPVC with a specialist paint, making them look like new again and extending the life expectancy.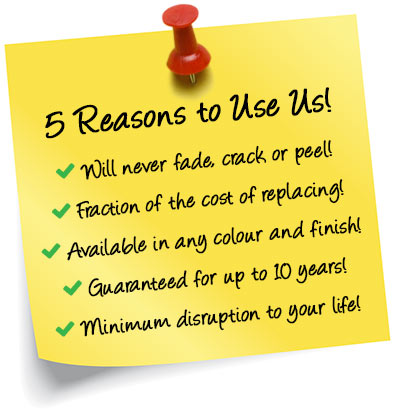 uPVC Painting - Watch our video! 
All work is carried out on-site by our qualified professionals, with the windows and doors sprayed in-situ. No more messy and expensive building work. No more dreary and dirty white uPVC. All for a fraction of the cost of replacing with new. All you have to do is pick a colour (any colour!) and we'll take care of the rest.
If your windows and doors are looking tired or if you just fancy a change of colour, get in touch today for a no obligation chat. Our teams work nationwide, so if your in Edinburgh or Essex, call today, we can help!
"Prompt service coupled with excellent work at a confirmed price."
Mr. Gerry Carey - Wilmslow
"Thank you, you're teams done a great job!!"
Mr & Mrs Gartell - Birmingham
"It has been an absolute pleasure liaising with you and your colleagues; uPVC Painter's have been so efficient, but friendly, from the moment I contacted you."
Sue Mills - Birmingham
"We are really pleased with the results; the finish is excellent – the windows look brand new! Your guys were very professional and polite throughout the works which gave us full confidence in their ability."
Rob Slater - Wilmlslow
"I would highly recommend Upvc Painters Ltd to anyone who wants to transform their white Upvc windows. Our team of sprayers were very professional and friendly and have made such a difference to the look of our house."
Ian McClelland - Chester
"I was very impressed with the professionalism of UPVC Painters. Dealing with Lawrence was straightforward: he provided a swift quote and recommended other work they had done which we could look at. The painters were on time and professional and the finish is fantastic. We would recommend them highly."
Julie Toller - London
How it Works
The work area has to be clean and clear. If working inside, all items of furniture are moved or covered with plastic. The flooring is covered with drop-cloths. If outside, the are is swept out and any furniture is moved.
Using the specialist cleaning products, we fully clean and de-grease the uPVC windows or doors. This is a 2 part process, utilising products manufactured specially by the paint supplier, to clean off any contaminants in the surface, to ensure a perfect bond for the paint.
Once all areas are fully cleaned, we start the masking process. If there are any handles that are not being sprayed they are removed. All the glass is taped up and protected with plastic sheeting. Any adjacent surfaces are fully masked off, protecting from over-spray, and the drop-cloths are taped into place, protecting the flooring.
Once its all masked off, we set-up our specialist spray equipment, prepare the paint by mixing it with the curing agent, and then we're ready to start spraying. The uPVC is then sprayed by one of our technicians. The only thing you need to worry about is choosing the right colour!
Once the uPVC has been sprayed, we allow it to harden off for an hour before starting the clean down process. The specialist equipment is put away and the masking paper and tape is removed. All drop-cloths are folded and taken out and the whole room is swept/hoovered out.